Stratus Micro-Mister | Hypochlorous Acid Disinfectant Applicator
Stratus Micro-Mister | Hypochlorous Acid Disinfectant Applicator
Stratus Micro-Mister device with a coiled hose and one bottle. Please select your connector type above.
Connects to your existing compressed air system
Operating pressure of 40 - 60 psi
Ultra-fine, uniform mist with a particle size below 15 μm
Order five or more and receive 15% off of the price of the mister. Just enter the discount code 15OFF5PLUS at checkout.


Stratus Benefits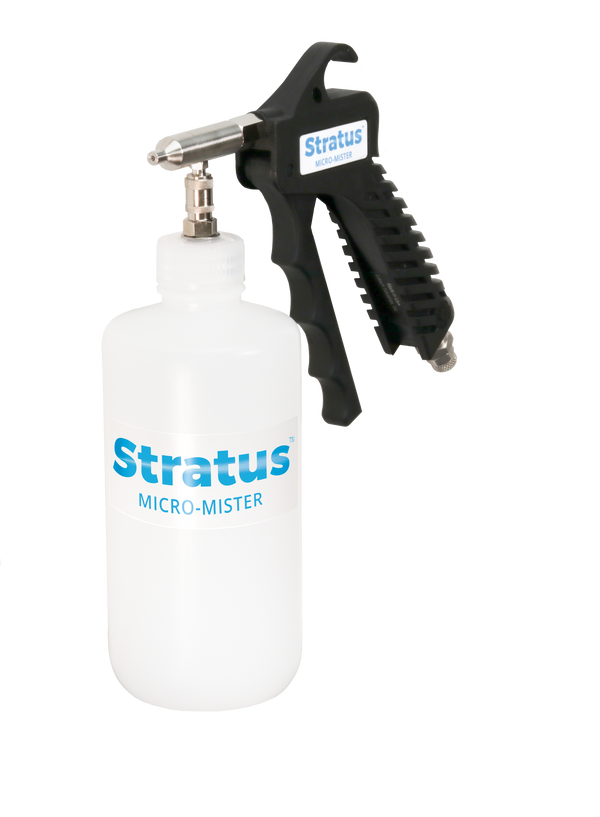 Quiet

Stratus runs off your operatory's compressed air, so there is no annoying electric motor noise to disturb neighboring operatories.

Fast

Thoroughly disinfect your operatory in a fraction of the time it takes with a conventional spray bottle, which leaves a wet mess and requires wiping to dry.

Safe

The active ingredient in Stratus mist is hypochlorous acid (HOCl), which is safer and more effective than bleach or other harmful chemicals.

Effective

The patent-pending Stratus venturi nozzle creates an ultra-fine mist that penetrates in and around equipment and supplies, disinfecting areas missed with spray and wipe alone.
Technical Specifications
Recommended Air Pressure

The Stratus works well at pressures up to 90 psi. However, we recommend 40-60 psi for best results.

Dimensions

Mister with Bottle - 8" L x 2.75" W x 8.75" H

Polyurethane Air Hose - 1/4" Diameter x 42" Long - Extends to 25'

Weight

Bottle Capacity

500 ml (16.9 oz) Nalgene® Bottle